If you need extra cash—for whatever reason—our Personal Loans can offer funds you need at rates you can afford
People's Community Credit Union serves the greater Vancouver WA area.
Have money in your savings account or a certificate? Sometimes it's better to borrow against your own savings than withdraw the money and spend it.
You can borrow for nearly any reason.
Great for establishing or reestablishing your credit.
Rates are especially low when you use regular savings as collateral. Certificate-secured loans only cost a bit more.
You keep your hard-earned savings intact and feel good about it.
You avoid possible early withdrawal penalties if your money is in a certificate.
You continue to earn dividends on your account and watch them compound.
Personal Banking Basics
You have a lot of options when it comes to managing your money, it can be tricky to weigh all of your financial decisions. Personal banking isn't always simple. In fact, it can be frustrating trying to plan your financial future without all the facts. Luckily, our Member Services team is made up of financial experts dedicated to making your personal banking experience as smooth as possible. We've compiled a list of the most common questions we get about banking. Whether you're opening an account for the first time or in need of assistance with your existing debts, People's has you covered. Browse our FAQs below to get answers to our most commonly asked questions!
The Pacific Northwest's Trusted Credit Union Since
1952
Looking for a financial institution you can trust? With People's you'll find a wide variety of accounts for all your financial needs—whether you're a savvy saver, a young family looking for a better auto loan rate, or opening your very first checking account.
Questions? Member services is here to help!
Financial Calculators
Our financial experts have compiled tools to help you calculate all the details of your loan, debt consolidation, or credit card interest.
At People's, All Members Get the Same Rate
People's provides members with access to affordable credit through low-rate loans. What sets our credit union apart is that all members pay the same rate, no matter their credit score or amount in their account. We are here to help you with your financial needs.
Five Locations in Vancouver WA
Vancouver Waterfront
701 W Columbia Way
Vancouver, WA 98660
Hazel Dell
7403 NE Hazel Dell Ave
Vancouver, WA 98665
Battle Ground
121 NW 20th Ave
Battle Ground WA 98604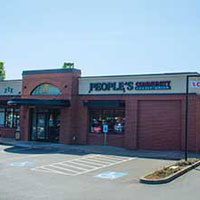 Fisher's Landing
16211 SE 12th Street
Vancouver WA 98683
Ridgefield
109 S 65th Ave, Ste 102
Ridgefield, WA 98642
Personal Loans in Vancouver WA
Serving Greater Vancouver WA
Vancouver | Fishers Landing | Hazel Dell | Battle Ground | Ridgefield | Salmon Creek
Orchards | Minnehaha | Walnut Grove | Hockinson | Baker | Sara | Felida | Cascade Park