Financing options for purchasing a new vehicle or refinancing your car or truck!

We'll match your current rate to as low as 2.99% APR.*
People's Community Credit Union serves the greater Vancouver WA area.
Apply Today for Affordable Auto Financing
Dreaming of a new car? We can put it in your driveway! Whether it's a new red sports car or a gently-used hybrid SUV for family adventures, People's can put you behind the wheel with our affordable auto loans.
Buying a New Car or Refinancing Your Vehicle?
Purchasing a new car or truck is a big decision, but it doesn't have to be daunting if you are equipped with the right information. When it's time to look into your financial options for buying a new car, we can help answer your questions so you're prepared before you go to the dealership. And if you're ready to refinance your vehicle for lower payments or a better interest rate, we've got you covered, too.
Browse our FAQs below to get answers to our most commonly asked questions!
Go through a credit union
Get a cosigner
Make a down payment
Have a steady source of income
Do you have a current auto loan with another lender? Bring us your loan and we'll give you a bonus!
Auto Loan Calculators
Our financial experts have compiled tools to help you calculate everything you need related to taking out a new car loan or refinancing your vehicle. Get pre-approved before you even visit the dealership! You'll know exactly what you have for financing options, so you can concentrate on getting the vehicle you want!
The Pacific Northwest's Trusted Credit Union Since
1952
Looking for a financial institution you can trust? With People's you'll find a wide variety of accounts for all your financial needs—whether you're a savvy saver, a young family looking for a better auto loan rate, or opening your very first checking account.
Questions? Member services is here to help!
Everything you need to find, purchase, and finance a vehicle.
At People's, All Members Get the Same Rate
People's provides members with access to affordable credit through low-rate loans. What sets our credit union apart is that all members pay the same rate, no matter their credit score or amount in their account. We are here to help you with your financial needs.
Five Locations in Vancouver WA
Vancouver Waterfront
701 W Columbia Way
Vancouver, WA 98660
Hazel Dell
7403 NE Hazel Dell Ave
Vancouver, WA 98665
Battle Ground
121 NW 20th Ave
Battle Ground WA 98604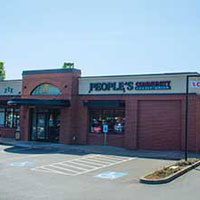 Fisher's Landing
16211 SE 12th Street
Vancouver WA 98683
Ridgefield
109 S 65th Ave, Ste 102
Ridgefield, WA 98642
Auto Loans in Vancouver WA
Serving Greater Vancouver WA
Vancouver | Fishers Landing | Hazel Dell | Battle Ground | Ridgefield | Salmon Creek
Orchards | Minnehaha | Walnut Grove | Hockinson | Baker | Sara | Felida | Cascade Park