Extend your purchasing power
with a People's Credit Card.
People's Community Credit Union serves the greater Vancouver WA area.
Our credit cards offer low rates, no annual fees, no cash advance fees, and no balance transfer fees
 VISA® credit cards are accepted around the world, allowing you to make purchases in person or online, pay bills, cover travel expenses, and get emergency cash when you need it most.
No Cash Advance Fees

No Balance Transfer Fees
The Pacific Northwest's Trusted Credit Union Since
1952
Looking for a financial institution you can trust? With People's you'll find a wide variety of accounts for all your financial needs—whether you're a savvy saver, a young family looking for a better auto loan rate, or opening your very first checking account.
Questions? Member services is here to help!
At People's, All Members Get the Same Rate
People's provides members with access to affordable credit through low-rate loans. What sets our credit union apart is that all members pay the same rate, no matter their credit score or amount in their account. We are here to help you with your financial needs.
Five Locations in Vancouver WA
Vancouver Waterfront
701 W Columbia Way
Vancouver, WA 98660
Hazel Dell
7403 NE Hazel Dell Ave
Vancouver, WA 98665
Battle Ground
121 NW 20th Ave
Battle Ground WA 98604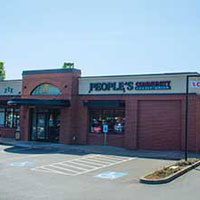 Fisher's Landing
16211 SE 12th Street
Vancouver WA 98683
Ridgefield
109 S 65th Ave, Ste 102
Ridgefield, WA 98642
Credit Cards in Vancouver WA
Serving Greater Vancouver WA
Vancouver | Fishers Landing | Hazel Dell | Battle Ground | Ridgefield | Salmon Creek
Orchards | Minnehaha | Walnut Grove | Hockinson | Baker | Sara | Felida | Cascade Park