Personal Banking Services
Access your account anytime, anywhere
People's Community Credit Union serves the greater Vancouver WA area.
Personal Electronic Banking Services
People's Community Federal Credit Union offers you the services you need to make managing your money easier. Whether it's no-surcharge ATMs, or online and mobile banking, we help you manage your money so you can focus on other things. People's free online banking service keeps you in touch with your money anywhere you have web access.
When it comes to convenience and providing the tools you need, People's ensures you are able to safely access your accounts how, when and where you want. Debit/ATM Card, Bank by phone, Online Banking, Mobile Banking are all at your command. Avoid embarrassing and costly overdraft situations with Overdraft Protection and Courtesy Pay.
Direct Deposit
eStatements
Debit/ATM Card
Account Switch Kit
Courtesy Pay
Direct Deposit
The Automatic, Convenient, and Confidential Way to Save Time and Money!
Direct deposit is a fast, secure way to automatically have your paycheck, retirement check, or any recurring automatic payment deposited into your People's checking account. Thousands of members already enjoy the benefits of Direct Deposit.
Direct Deposit is easy to arrange!
Just complete a Direct Deposit Authorization Form and take it to your company's payroll office. This form designates People's Community Federal Credit Union as your financial institution. You'll need to add your personal information and a voided check. You can also direct your Social Security or other Federal Government payments to be automatically deposited into your account using this Direct Deposit Sign-Up Form. If you don't already have a checking account with People's, open one today . View our Account Switch Kit for more information and forms.
eStatements
Debit/ATM Card
Account Switch Kit
Courtesy Pay
In-Branch Account Services
The Pacific Northwest's Trusted Credit Union Since
1952
Looking for a financial institution you can trust? With People's you'll find a wide variety of accounts for all your financial needs—whether you're a savvy saver, a young family looking for a better auto loan rate, or opening your very first checking account.
Questions? Member services is here to help!
The Perks of Banking with People's
Bank Anywhere!
Overdraft Protection
CardLock Theft Protection
In-Branch Banking Services
Bank Anywhere!
Bank Anywhere!
Manage your account on your terms! People's offers convenient service that let you bank anywhere.
Sign up for eStatements and receive your account statements by email.
Online Banking – fast, easy, secure access to your account from anywhere.
Mobile Banking – manage your money directly and make mobile check deposits from your phone using our app or text banking.
Phone Banking – Live 24/7 Call Center

Local: 360-695-5121
Toll-Free: 1-800-252-6525

Automated Phone Banking – convenient 24/7 account access

Local: 360-695-7559
Toll-Free: 1-877-TELLER0 (1-877-835-5370)

Credit Card Online Access – 24/7 ability to make credit card payments and find other information on your card
CardFree Cash℠ – No card? No problem. Get cash safely and instantly without using your debit card.
Overdraft Protection
CardLock Theft Protection
In-Branch Banking Services
At People's, All Members Get the Same Rate
People's provides members with access to affordable credit through low-rate loans. What sets our credit union apart is that all members pay the same rate, no matter their credit score or amount in their account. We are here to help you with your financial needs.
Five Locations in Vancouver WA
Vancouver Waterfront
701 W Columbia Way
Vancouver, WA 98660
Hazel Dell
7403 NE Hazel Dell Ave
Vancouver, WA 98665
Battle Ground
121 NW 20th Ave
Battle Ground WA 98604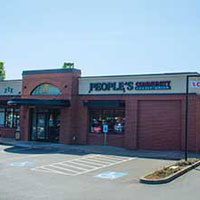 Fisher's Landing
16211 SE 12th Street
Vancouver WA 98683
Ridgefield
109 S 65th Ave, Ste 102
Ridgefield, WA 98642
Personal Banking Services in Vancouver WA
Serving Greater Vancouver WA
Vancouver | Fishers Landing | Hazel Dell | Battle Ground | Ridgefield | Salmon Creek
Orchards | Minnehaha | Walnut Grove | Hockinson | Baker | Sara | Felida | Cascade Park