Protecting your identity, your privacy, and your money.
People's Community Credit Union serves the greater Vancouver WA area.
Monitor and secure your accounts regularly to prevent banking fraud. We're here to help!
The following information has been prepared to help protect you from the many types of financial fraud and identity theft. We've compiled this resource to help you understand the threats and how to combat them. It's important to always monitor your financial accounts for suspicious activity. It's always a good idea to periodically review all activity done on any of your accounts. A good way to secure your accounts is to create long complex passwords and enable multi-factor authentication.
Banking Fraud Prevention
All Online Banking members have Multi-factor authentication enabled. If you would like additional protection, we have partnered with IdentityIQ to provide a robust ID theft protection program.
Browse our FAQs below to get answers to our most commonly asked questions!
Common Types of Bank Fraud
Identity Theft Protection
Protect Yourself from Identity Theft
Because we care about the security of your identity and your financial information, People's has partnered with IdentityIQ to  provide you with access to one of the most comprehensive identity theft protection services in the world… with a 20% discount.
With three different plans and the lowest starting at the special discounted rate of just $5.49 per month, this member benefit goes far beyond credit monitoring. IdentityIQ services proactively alerts you to suspicious activity so that you can act quickly.
All three levels of IdentityIQ service offer 100% U.S.-based customer service and support 24/7, 365 days a year.
The Pacific Northwest's Trusted Credit Union Since
1952
Looking for a financial institution you can trust? With People's you'll find a wide variety of accounts for all your financial needs—whether you're a savvy saver, a young family looking for a better auto loan rate, or opening your very first checking account.
Questions? Member services is here to help!
At People's, All Members Get the Same Rate
People's provides members with access to affordable credit through low-rate loans. What sets our credit union apart is that all members pay the same rate, no matter their credit score or amount in their account. We are here to help you with your financial needs.
Five Locations in Vancouver WA
Vancouver Waterfront
701 W Columbia Way
Vancouver, WA 98660
Hazel Dell
7403 NE Hazel Dell Ave
Vancouver, WA 98665
Battle Ground
121 NW 20th Ave
Battle Ground WA 98604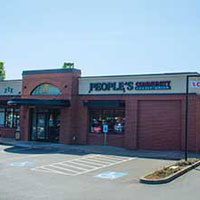 Fisher's Landing
16211 SE 12th Street
Vancouver WA 98683
Ridgefield
109 S 65th Ave, Ste 102
Ridgefield, WA 98642
Security in Vancouver WA
Serving Greater Vancouver WA
Vancouver | Fishers Landing | Hazel Dell | Battle Ground | Ridgefield | Salmon Creek
Orchards | Minnehaha | Walnut Grove | Hockinson | Baker | Sara | Felida | Cascade Park